Jünglinge Film is an artist-led production company based in Berlin. We cultivate projects for film, tv and the digital sphere, and are committed to the idea of activist popcorn cinema – a genre of filmmaking that uses a broadly appealing pop-culture lens to examine hard-hitting issues about identity and community. With an unabashedly feminist, anti-racist and queer approach to story-telling we understand ourself as a platform only for highly specific perspectives. Seen through a tender and radically honest gaze, our visual language embraces complicated realities while always referring to a world that we can all feel connected to. No matter how catastrophic the circumstances our characters find themselves in, we champion their agency, and empower unapologetically.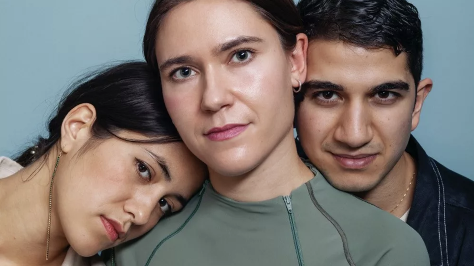 Faraz Shariat
born in Köln-Porz and raised in the hybrid cultures of post-migrant Germany, played the lead role "evil teacher" in a school theater performance aged eleven, understood that he was more comfortable behind the scenes when he started studying applied cultural studies in 2013, founded Jünglinge Film with Paulina a year later and coined the company's agenda as "activist popcorn cinema" – filmmaking that uses a pop-cultural lens to examine hard-hitting issues about identity and community for a broad audience. Since then, he has shot several films with and about his parents, one of which is his debut feature FUTUR DREI. He has been working on his next feature films, while directing episodes for TV every now and then — most recently for a horror-comedy about a killing crawler called THE BABY (HBO/sky). At Jünglinge, Faraz develops the feature slate, co-creates and produces both TV-shows and feature film projects, while managing the company.
Paulina Lorenz
born in Hamburg-Eimsbüttel, started working in the film industry when she was nineteen, founded Jünglinge together with Faraz when she was twenty, and from there on produced several music videos before making a real (then, unpaid) job of it by committing to produce and co-write FUTUR DREI for more than five years. Along that (very bumpy) road Paulina studied cultural and migration studies in Hildesheim, Providence and Copenhagen, wrote her B.A. on colonial haunting in European films and her M.A. around "Postmigrant Archival Encounters on Film". Paulina acts as creator, writer and/or producer for several TV shows and feature film projects, helps filmmakers develop their projects to its fullest potential, and manages Jünglinge Film.
Raquel
Kishori Dukpa
born in Berlin-Kreuzberg, did her first casting gig on FUTUR DREI, which won a first steps award for best ensemble. More casting jobs followed, she received the German Acting Award for her casting work for DRUCK and edited the catalog I SEE YOU for the film FUTUR DREI. But she understood that there is more for her to explore – She begins to write scripts for DRUCK, participates in various writer's rooms, continuously and vocally speaks and moderates for panels and event series such as CINEMA & CONTEXT, and advises as well as consults production companies on themes of diversity & inclusion. As a writer, Raquel is currently working on three shows of her own, and most importantly, her debut feature script DRAGON DAUGHTER, which channels her all-time love for Studio Ghibli films in form of a fantasy saga about two sisters who reconcile with their father's clamouring ghost.